Software & App
For therapists & patients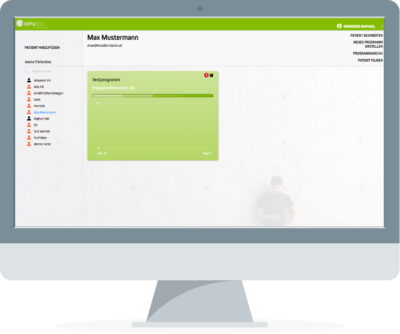 For therapists
Create your patients, create individual exercise programs for them from over 650 exercises with different goals and share them with your patients. If you can't find an exercise, you can simply upload a video or picture of this exercise yourself.
About the software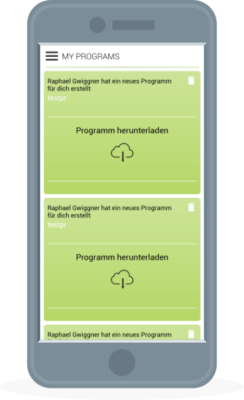 For patients
With the mobile sophyapp, your patients can view the stored training program and complete it correctly with exercise videos and detailed descriptions. After a successful training session, the patient can send feedback to the therapist.
About the app
FAQ
Questions about the product?
Does sophyapp have a notice period?
sophyapp can be terminated at any time without notice. You only pay for the current month and can easily get out at any time.
Why has my patient not received an email confirmation?
From time to time, mails may not be accepted the first time they are sent because the provider rejects them. However, these are sent again after an interval of 5 minutes and achieve a success rate of 97.5% the second time they are sent.
The mail for a programme itself is not relevant. It is only important that you click on the button "Send programme to patient's app" and the programme is automatically available for the patient's stored e-mail address.
Whether student, physiotherapist, practice or hospital – sophyapp is suitable for everyone.
sophyapp is primarily aimed at therapists who would like to take care of their patients from home. The therapist creates an adapted exercise program for the patient and the patient can carry out the program at any time and in any location.
Why can't my patient register?
My desired exercise is not in the exercise catalog!
No problem. Simply go to Settings-> Upload Exercise and upload a video + preview image for your exercise. The uploaded exercises are already available to you in your sophyapp exercise catalog.
If you would like to film several exercises for the sophyapp catalog, feel free to contact us.
Why doesn't my patient have a programme on their app?
There are different reasons here. Please check the following:
Have you already clicked on Send programme to patient's app?
Have you entered a mail address for the patient?
If so, have you checked that this is the correct mail? This must be 1:1 identical with the patient registration mail!
Did you enter the mail address with googlemail, but your patient registered with gmail?
As a therapist, can I also use the mobile app?
The mobile sophyapp is initially only intended for patients. This can be used on both the smartphone and the tablet.
Therapist:  Entry via the web application (app.sophyapp.com)
Patient:      Entry via the Android / IOs application